Friday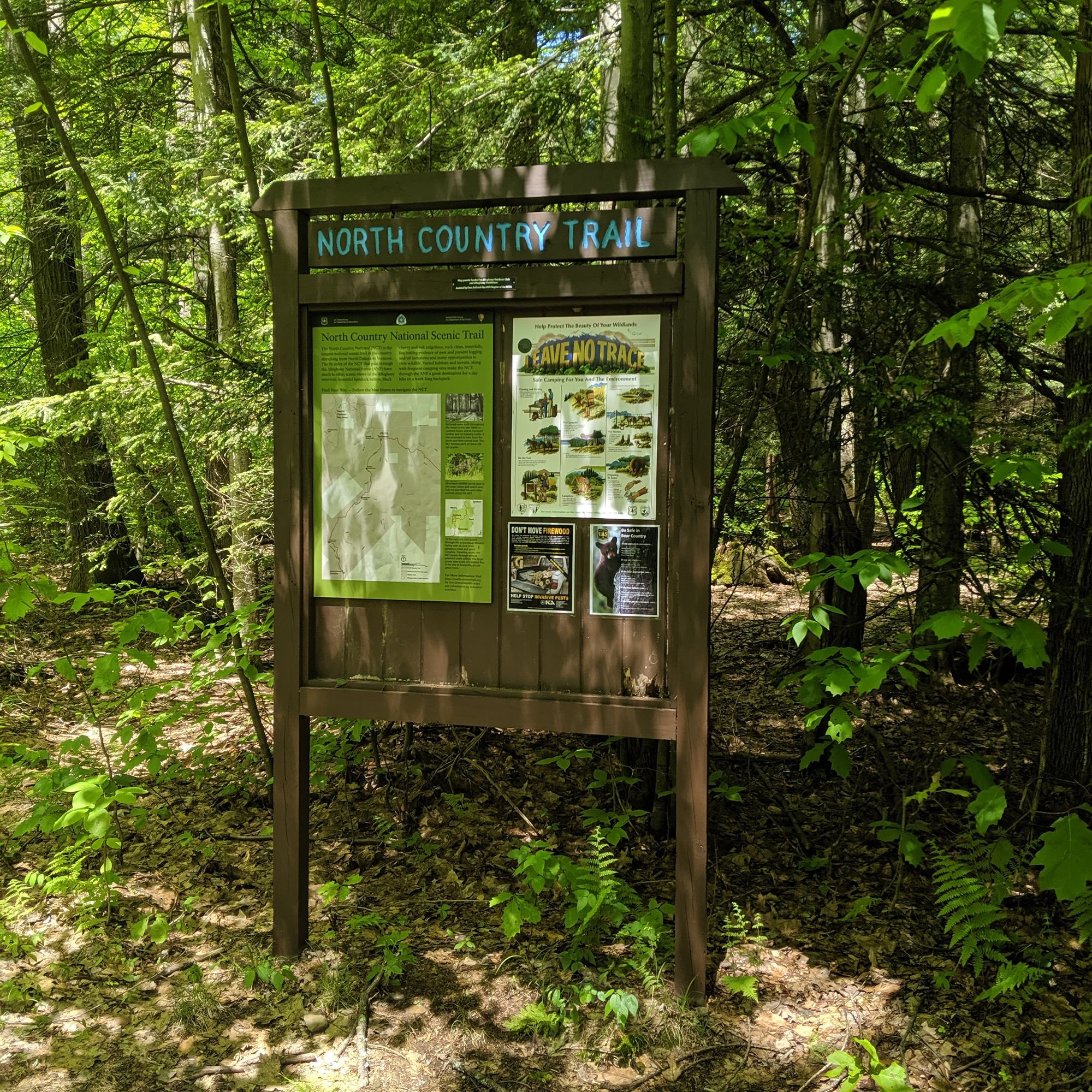 We in at about 7:30PM. It was still light and we still had plenty of time to get to the shelter area and get camp set up. There was not much tent space to set up, but most of us were staying in the shelter. Once we got the fire going, several of the group got out their steaks and cooked them up. I ate my Subway sandwich and pretended not to be envious.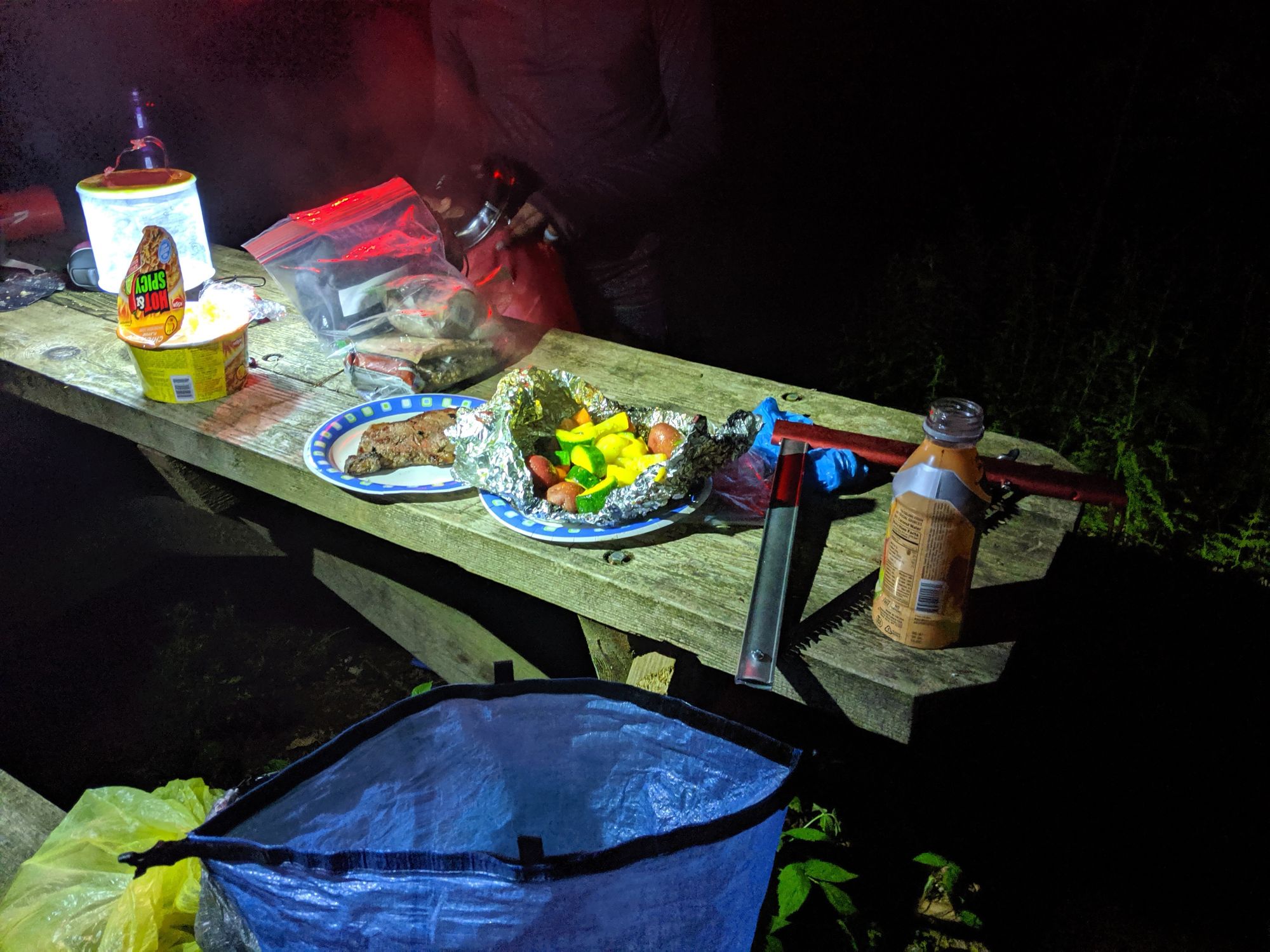 Saturday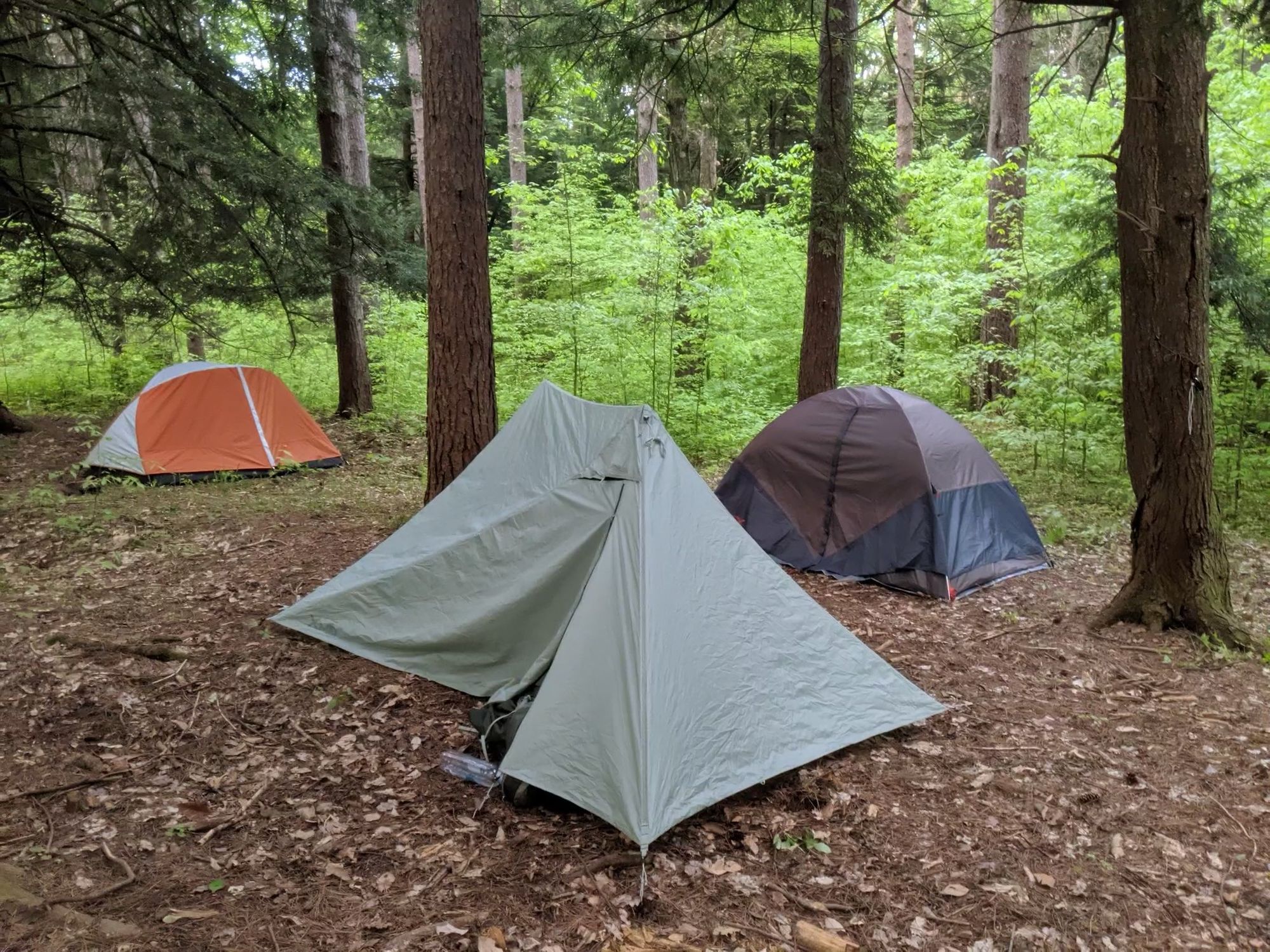 I was up at 6. Was a little cold that night, esp. my nose. One of my favorite things about the XMid so far is how easy it is to pack up. You can literally just take out the steaks and poles and stuff it in the stuff sack. Packing up my sleep setup took all of 10 minutes. One of the other tent campers panicked a bit because when he woke up a bit later, my setup was completely gone.
We got on the trail by about 8:30, which is the earliest I think I've seen with a group. I felt really good hiking and we ended up hiking at close to 3mph. As a result, when we stopped for lunch, we were about 2 miles from our intended camp site. Ate by a large river and waited for everyone to catch up. River was cold, but was refreshing for the feet. We saw another hiker as well as a fisherman who was sad that the creek wasn't higher. We agreed to meet up at the proposed camp site and decide if we wanted to go further from there.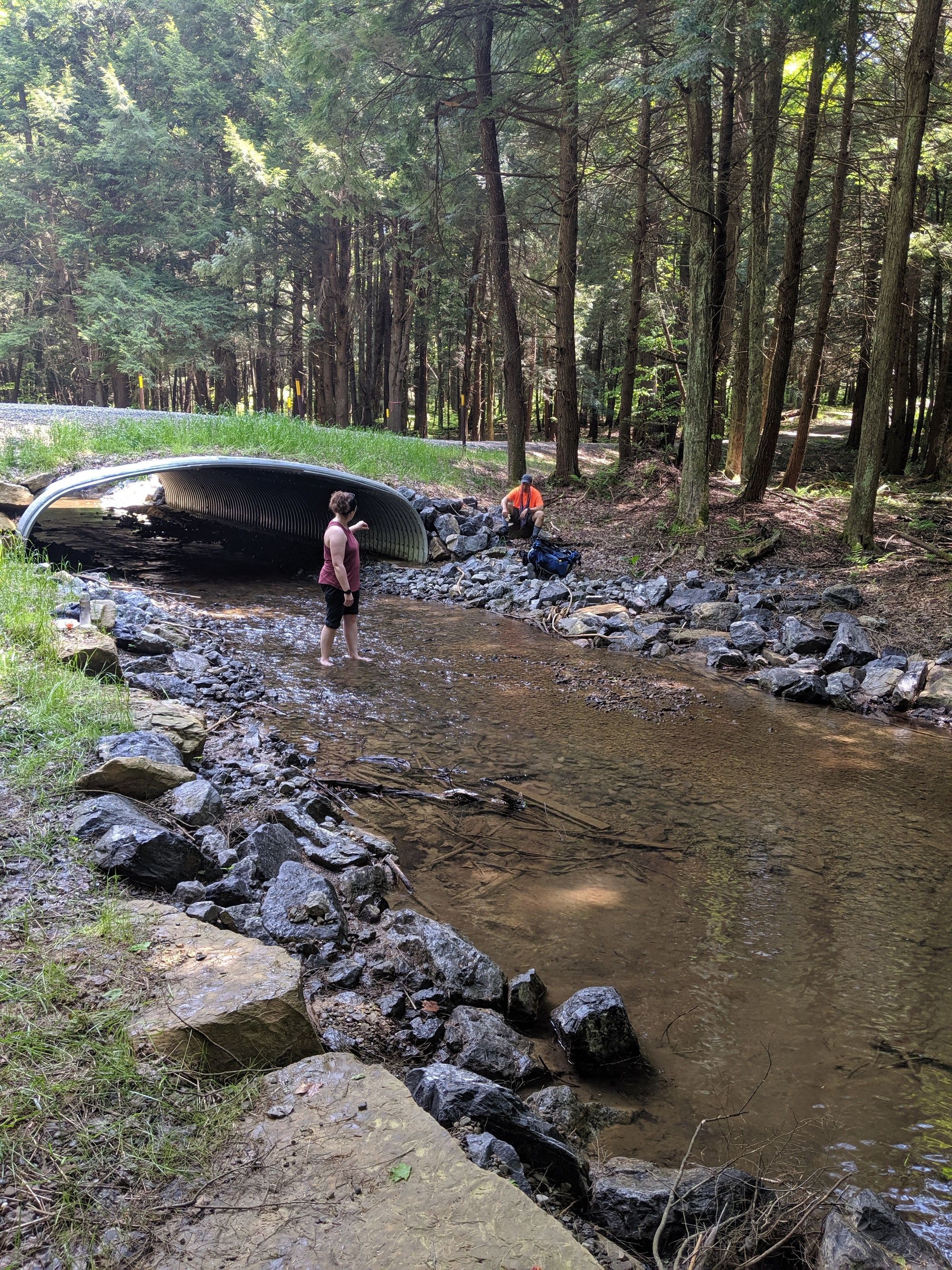 I got started a bit before the rest of the group and I started following the road, keeping any eye out for where the trail diverged from it. Once I'd been going for a bit (~15 minutes or so), I figured I should have seen the turn off by that point or else have seen a trail marker of some sort. I waited a few minutes to see if anyone would catch up. The fisherman caught up to me and indicated that I had passed the trail turn off, so I headed back and tried to double time to catch up with everyone. I ended up hiking alone for more than an hour. I passed what I thought was our camp site (even though there was supposed to be some stairs near it according to the person who had hiked this way before) and no one was there, so I kept going. I eventually caught up to the back of our group right as it started to rain. The forecast called for storms all afternoon, but about as soon as we got our rain gear out, it stopped. The back pocket on my Crown2 made it super easy to get at my rain gear, which I liked. Conveniently, it was also easy to put away. I was actually able to get my LHG rain jacket off without taking my pack off.
Eventually, we caught up to the rest of the group who were waiting for us at a bridge. Everyone was confused because they expected me to be ahead of them. The person in front didn't stop at the camp because I wasn't there and the next people who passed it went on because no one was there. Our choices at that point were to go back or keep going on a bit further to Kellettville campground. There were supposed to be some backcountry sites a bit beyond it. By the time we finish the road walk into the campground, though, we are all pretty tired. It is hot, the sun is out, and there are plenty of people wading in the river. The trip leader decides to check to see if they have any space at the campground and fortunately, they have a number of walk in sites that are free and first-come, first-served. We have the entire walk in area to ourselves.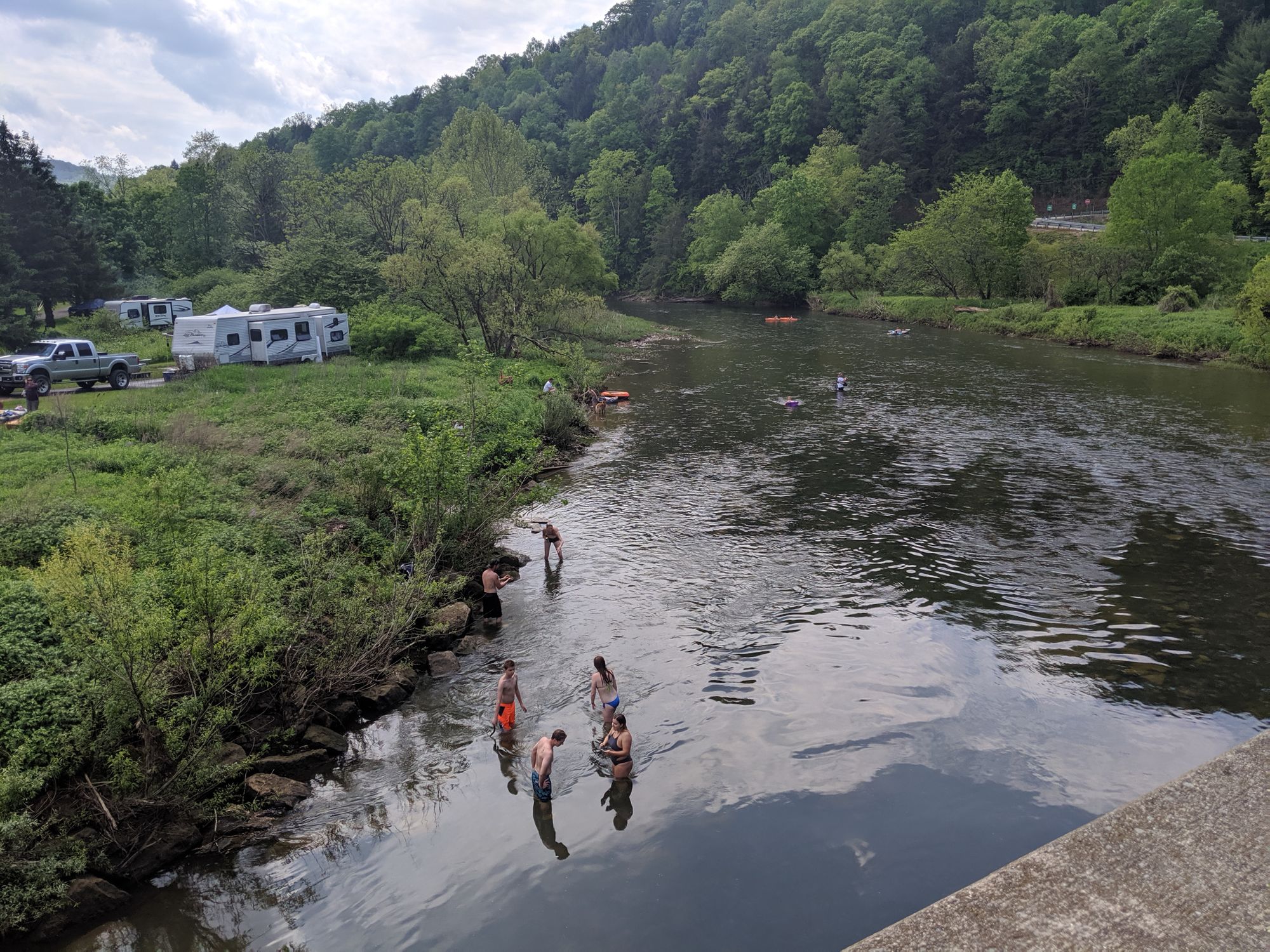 Once we set up our tents, we set about gathering some firewood. There was as much 1" diameter wood as you could carry, but nothing really bigger than that. Fortunately, one of the campers who was at the site before us left some larger logs for us to use. We then sat around a bit to recuperate. I don't think many of us were ready for this sort of mileage and pace. In setting up camp, we also found a ton of ticks that were incredibly tiny. I can't tell if they were young or just a really small variety, but they were really hard to find.
After we got camp set up, someone made the suggestion that we should go to the local bar, Cougar Bobs. It was about half a mile out, so even the worst of us could hobble over. Not one to say no to fried food and beer after a long hike, I decided to go along. 2 of us stayed back to watch the camp and stay with the dog, which ended up being super lucky.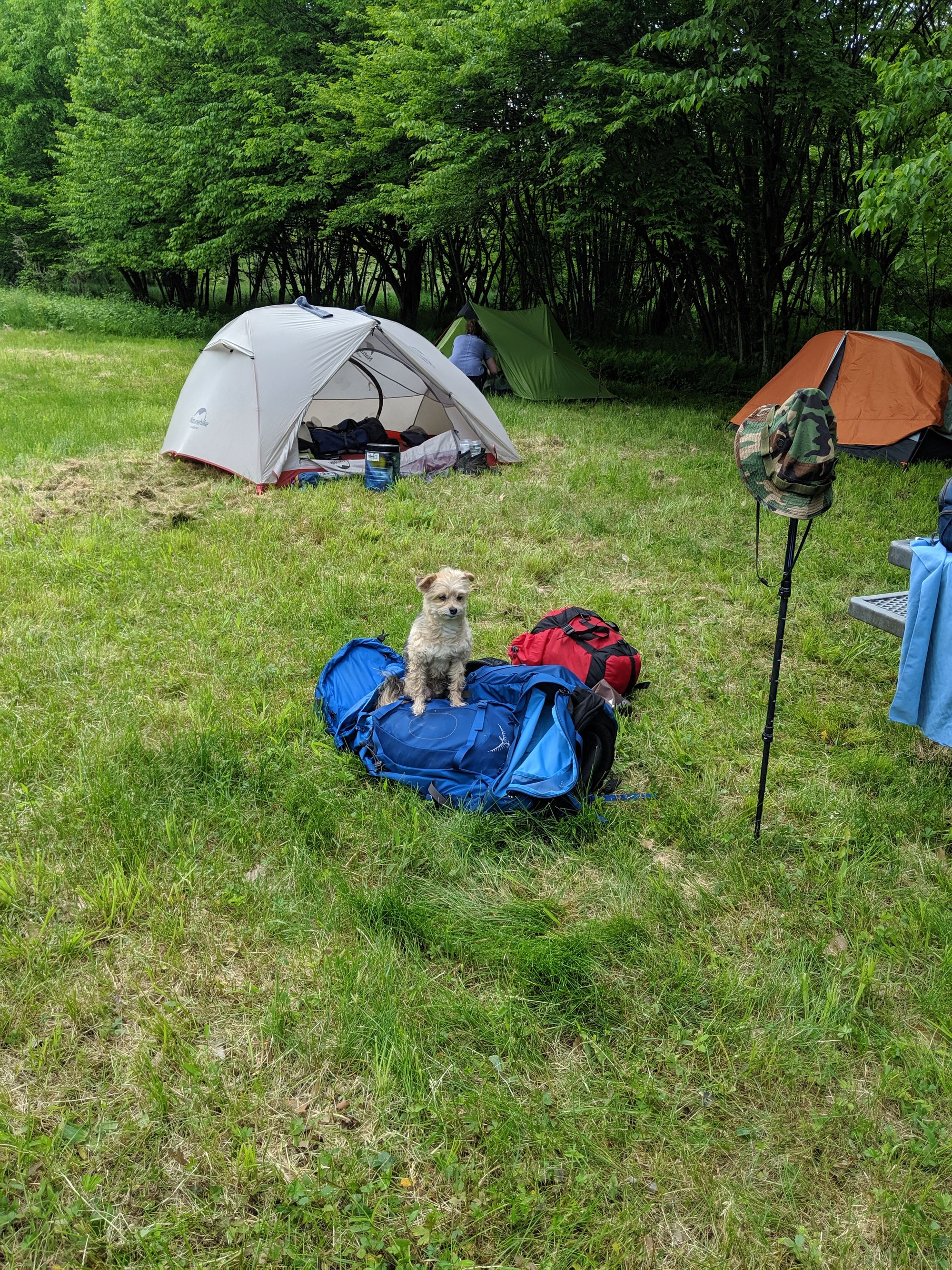 We got over to Cougar Bobs and ordered wings and Yuengling, like the good patriots that we are. One of the group asked if they had any IPAs. You could tell by looking at the place that they did not have any IPAs. Unsurprisingly, he ordered a Yuengling like the rest of us. They did, however, have Old Bay flavored wings. ¯\_(ツ)_/¯
During dinner, one of the group told us his experience of coming to the US from Viet Nam after the war. His father was a translator for the Americans, so his family tried to get out as quickly as the could after the war. He spent 6 months in a UN refugee camp in Malaysia before going to the Philippines and getting approval to come the US. His trip was apparently a bit easier than others because of his father's job during the war. His father spent 7 years in prison in Viet Nam before eventually coming to the US as well.
The forecast for the day had been rain all afternoon and evening. So far we'd been lucky, but, of course, the heavens opened up while we were eating. None of us had rain gear. Several of us had left our tents open. We waited out the worst of it and then made our way back to camp to check the damage. The remainder of our group had been able to close up our tents, mostly. There were a couple windows that got missed, so we still had some wet gear. My tent was completely dry on the inside, even with the vents open, which was great.
At some point during the storm, the power went out in the camp ground, which meant no water from the pumps. We all had some water already, but we weren't sure if we'd have any in the morning. There were plenty of puddles for frogs to hang out in, though.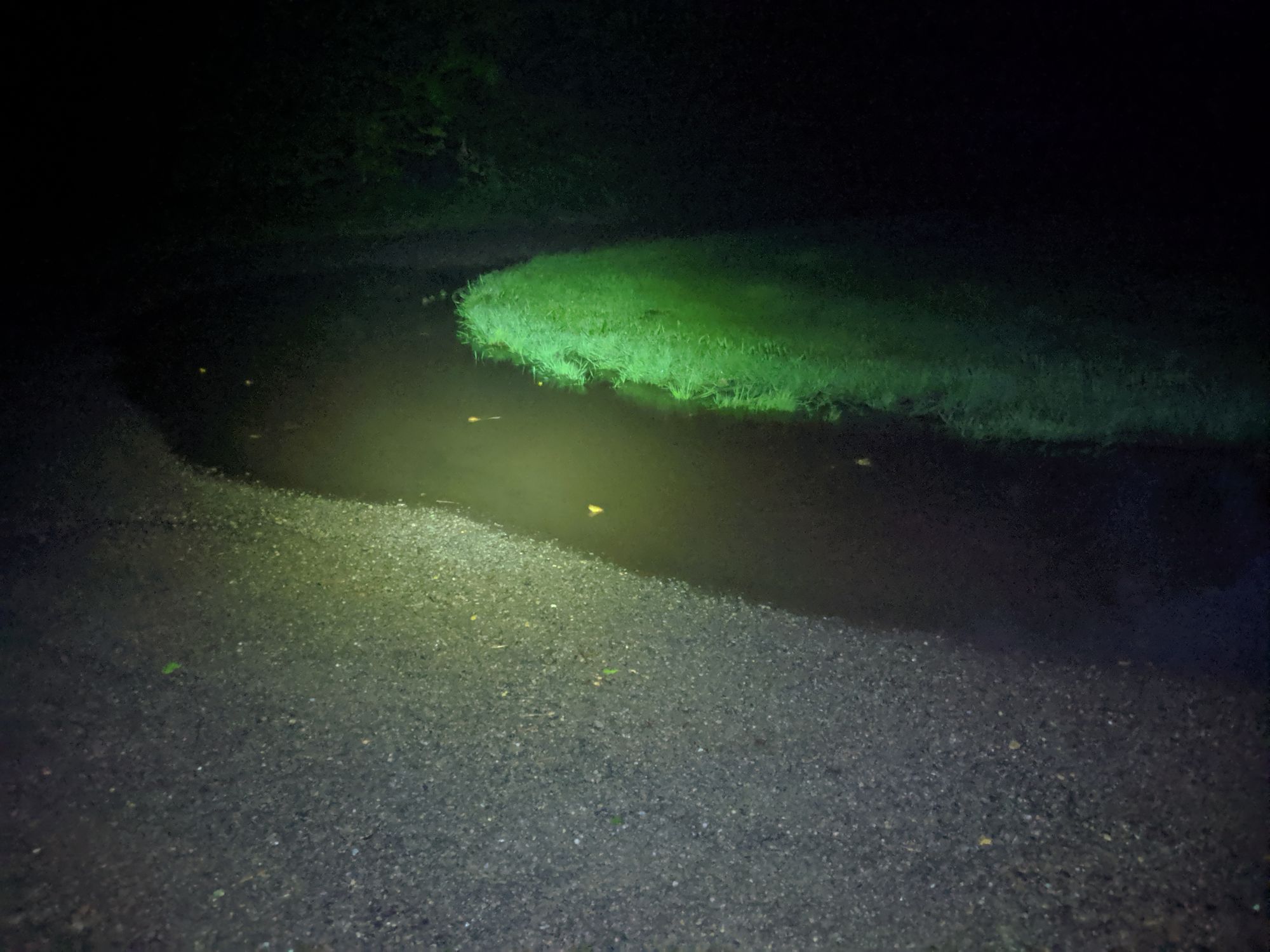 We spent some time wringing out our gear and I was actually able to hang a bunch of mine in the XMid's large vestibules either from my trekking poles or from the line where the inner connects to the rain fly. I changed in to dry clothes and read a bit before going to sleep.
Sunday
The next day, we got going a bit later. Everyone had wet gear that they needed to deal with. When we first got up, the power was still out, so I had to borrow someone else's water to get breakfast going. It came on shortly before we were ready to head out, so we didn't need to find any. Although, it's never very long to find water on this trail.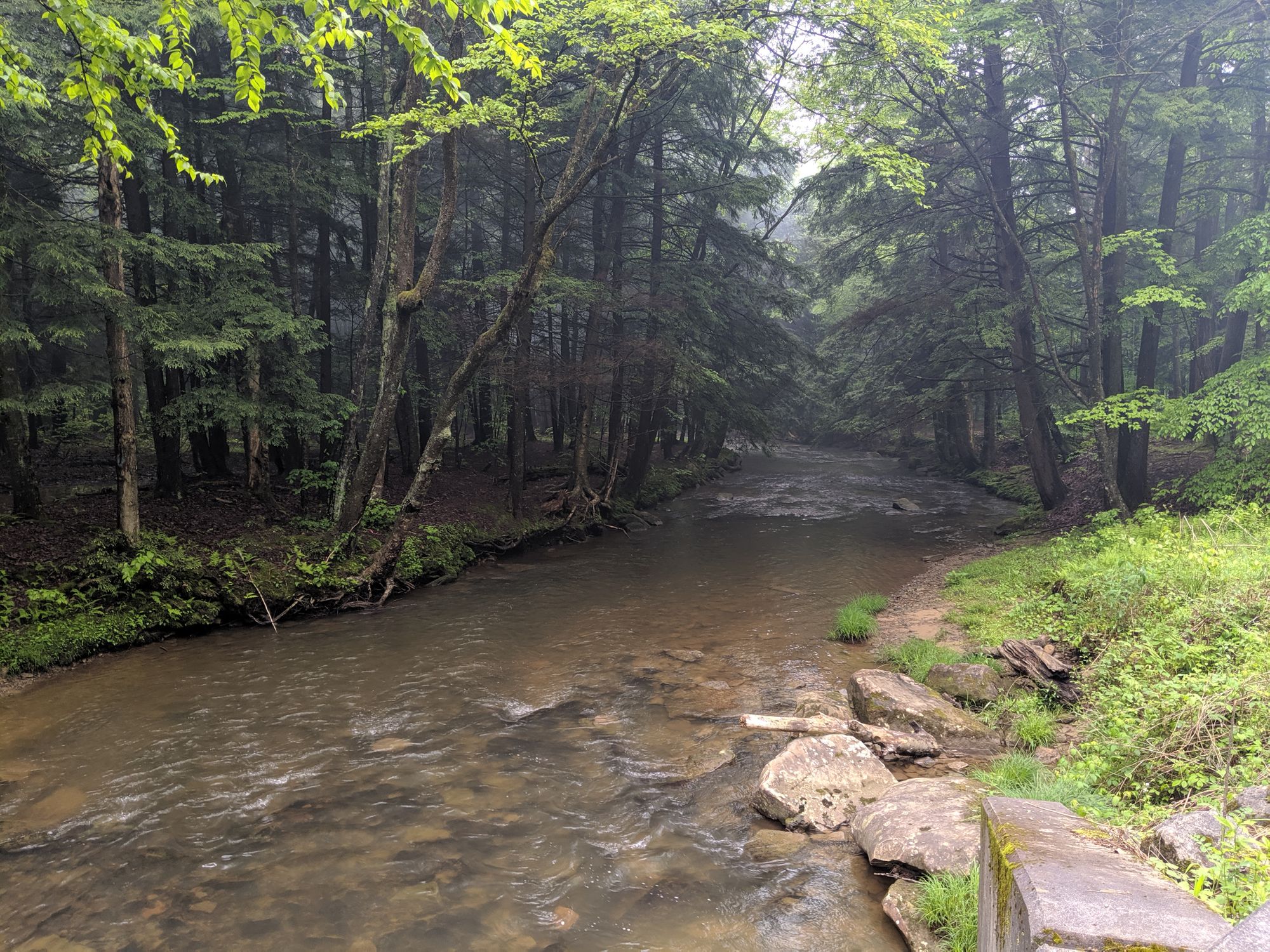 We stuck together for the first bit of the trail, but we evenutally split up into three groups based on our hiking speed. I was roughly in the middle. Eventually, I ended hiking by myself for quite a ways with occasional glimpses of the others.
There was a set of benches that I passed on the top of a hill around noon that looked like a perfect lunch spot, but it started raining. It started out pretty light, but later on poured super hard. I put on my rain jacket, unzipped the pits on it,I was able to catch up to one of the others in all of this, but it was too loud to hear anything that was said. Also, the creek crossings were now incredibly high and very fast. There were a few that you could no longer see the rocks for anymore.
We stopped at Little Salon Run, which was our planned camp site, but it was only about 1:30PM when we got there. I was the third person there. Everyone else showed up around 2:00PM. By this time it had mostly stopped raining, but the sprinkling started enough that we set up a tarp, even though it promptly stopped. We decided that since it was still early, that we'd continue on to Queen's Creek shelter, which was about 5 more miles. The site at Little Salmon was pretty small for our group. We ate lunch, refilled water, and continued on at about 3:00PM.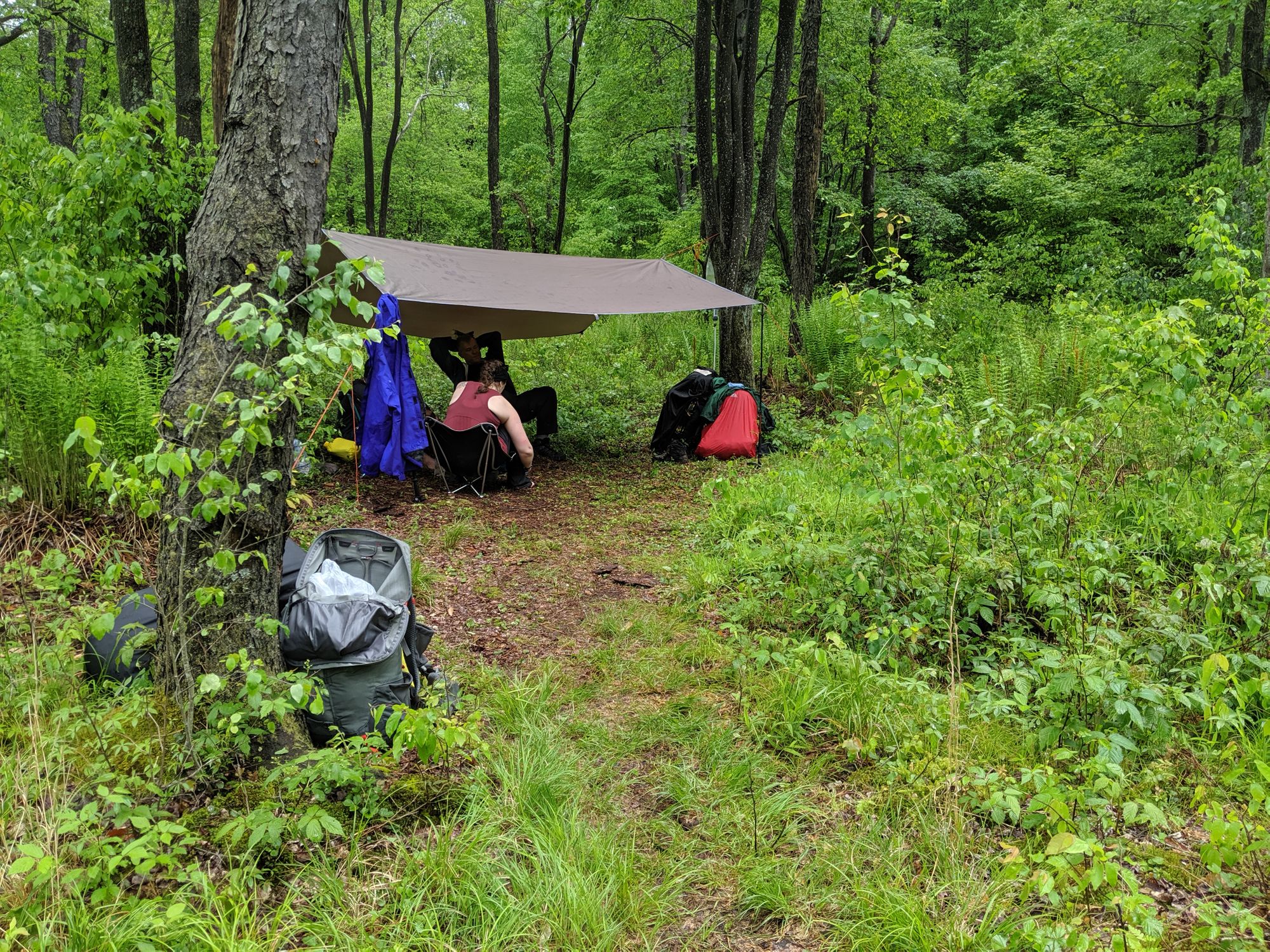 We again continued on in groups. The first part of the trail was a huge uphill. Unfortunately, the pictures of the view from the top really don't show much because of how green everything is. At the top of the hill, the trail crosses an oil well access road of some sort. I followed it for a bit looking for blue markers until I eventually checked my phone and saw I was off trail by quite a bit. I hiked uphill a ways until I found the last blue marker, but still didn't see where the trail went. After talking to others, the best we can figure out is that the oil well roads also use blue markers. I walked around looking for markers for a bit before seeing one in the distance and bushwacking to get to it.
This was a pretty bad section of trail- lots of downed trees, sideways trail, and uphill. If we had known how bad it was, we probably would not have continued on. It was definitely the hardest part of the trail.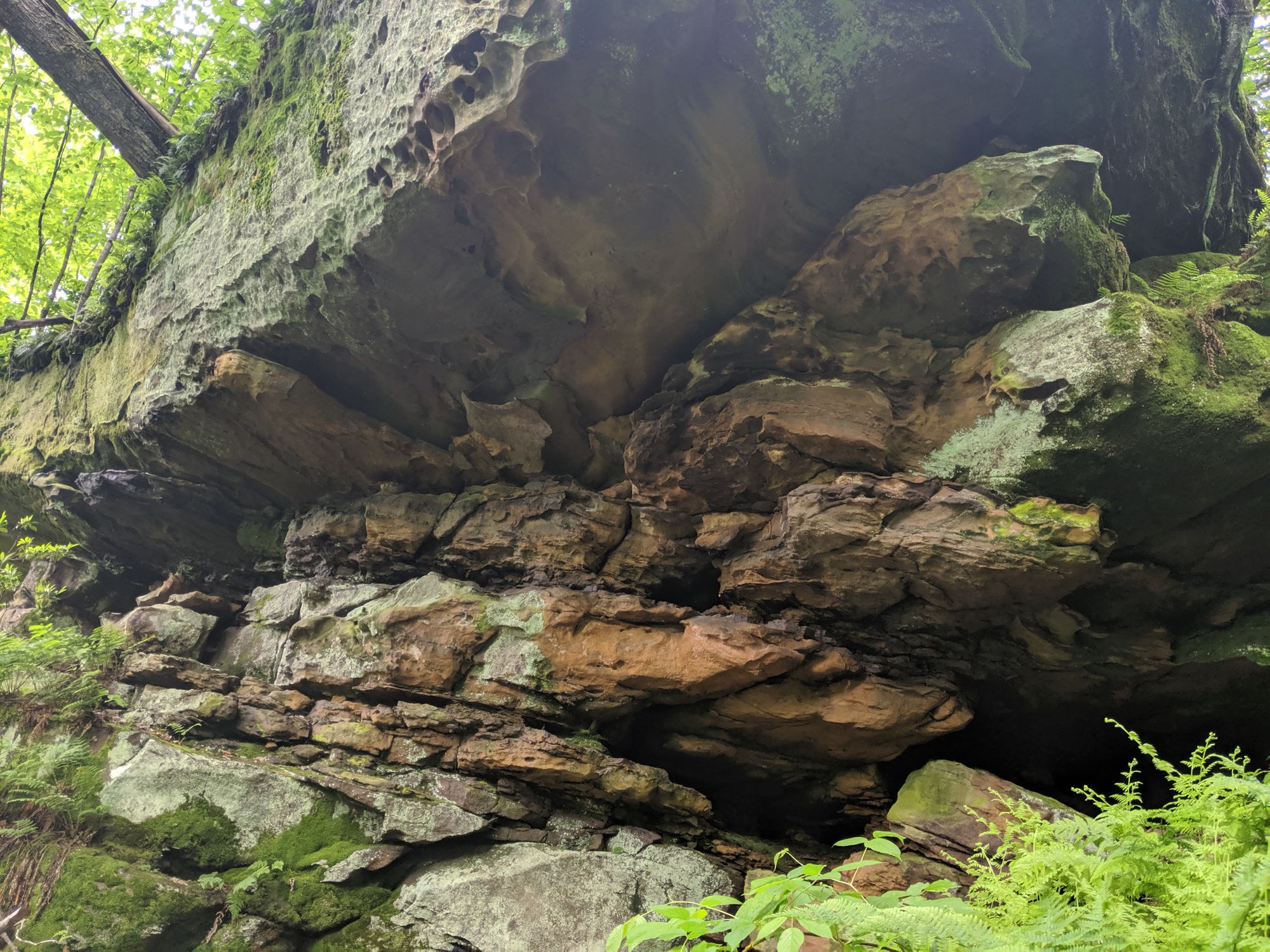 We got to the shelter between 4 and 5. There was off and on rain for a while, but we eventually were able to get a fire set up with the wood from the shelter. The shelter had a huge area behind it to set up tents and plenty of water around. Right around this time is when I started to wish that I had camp shoes on me. My shoes were soaked and, against advice, I did not bring breadbags with me.
Monday
Everyone was again up around 6 and ready to go around 8. Once we hit the end of the national forest section, trail became terrible again. It was sections of super wet grassland into marsh along a pipeline. There were several places that were literally just 4-6 inches of water all the way across. We came across 2 beaver dams along the way. It was a quick 5 miles out.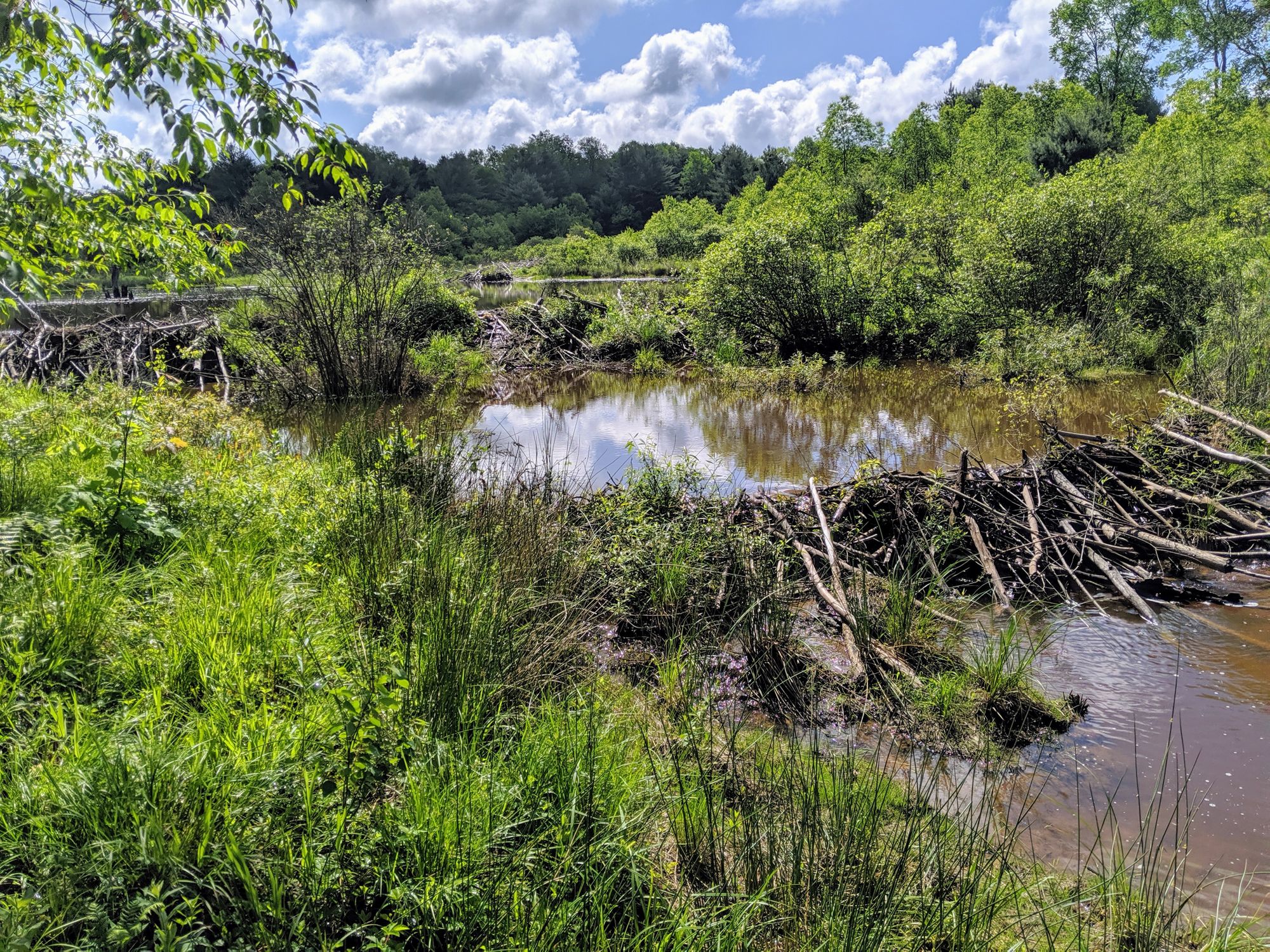 After we finished, there were some trail maintainers that stopped to talk to us. Apparently, they had not started the trail maintenance season yet, so that's why there were a bunch of downed trees. They also were very particular that they did not maintain the last section of the trail that we were on.
Gear I liked
LHG Rain Jacket

This worked out really well, except for what I think is a bit of user error. It was incredibly easy to get on and off and I was mostly dry. Despite closing the cuffs snugly, there was a bit of water that got caught in my sleeve, which then dripped down my sides. Not a huge deal, but a bit annoying.

3FUL Rain Skirt

I rolled up my pants, put this on and was both cool and dry. I'm not sure I would recommend if you had pants that didn't roll up nicely, though.

Dan Durston X-Mid

Man. This tent continues to impress. I was completely dry despite the downpour. There was plenty of vestibule space to keep my gear dry and the peak vents kept the condensation and temperature down.
Gear I didn't like
Litesmith Fire starters

They did not work very well. May have been user error, though. I think we were not using enough tinder with it.

La Sportiva Wildcats

My feet hurt at the end of the second day. I also have a lot of places that are probably going to become callouses.
Gear I wish I had
Camp Shoes

My shoes got wet on Saturday and didn't really dry out ever since it was so humid. Would have been nice to have something dry on Sunday night.